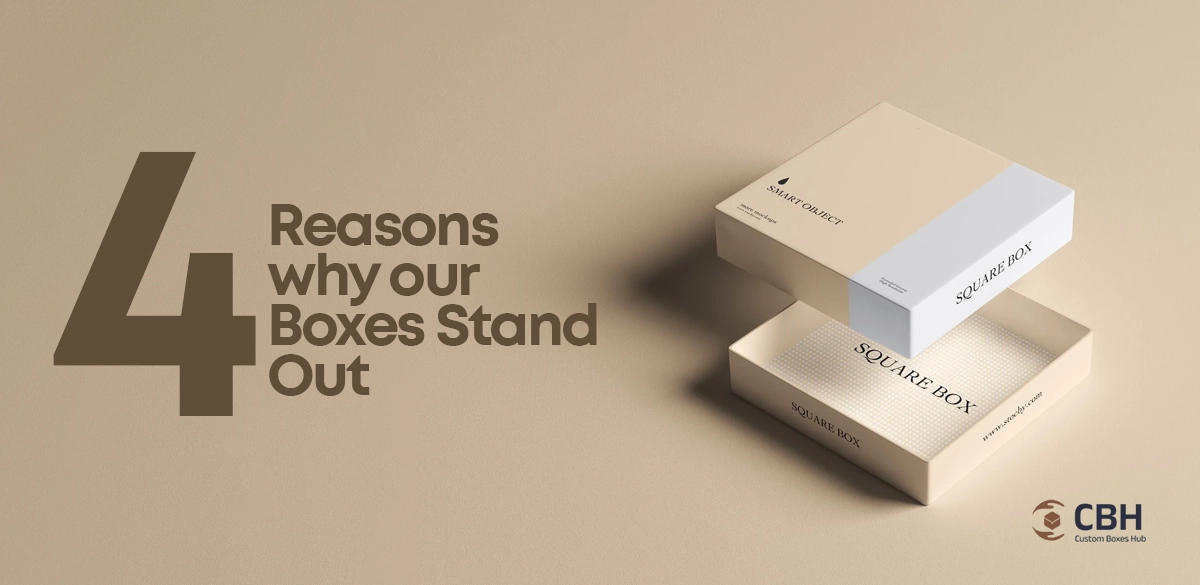 Packaging has promoted its specialities from safeguarding to a marketing partner. Custom printed boxes are at the forefront of this packaging revolution. Custom boxes hub is considered in the list of those manufacturers that are best in their business in providing top-notch custom boxes that can spotlight your product in the crowd.
1. Unmatched Quality in Custom Boxes Wholesale
You must choose CBH if you are looking for high-quality custom boxes that for sure make a memorable impression in the customer's eyes at first glance.
Premium Cardstock: We source only the finest cardstock materials, known for their strength and resilience.
Eco-Friendly Options: Besides quality, we also offer eco-friendly materials for those who value sustainability.
Precision Cutting: Our artisans employ precision cutting techniques to ensure flawless every edge and corner of your custom boxes.
Handcrafted Touch: Some of our custom boxes receive unique handcrafted embellishments, adding a touch of uniqueness to your packaging.
Rigorous Testing: Before your custom boxes are delivered to you, they undergo thorough testing to ensure they can withstand various environmental factors and handling conditions.
Customized Solutions: We offer tailored solutions for specific industries and product types.
Branding Opportunities: Our Custom kraft boxes offer ample space for branding and personalization.
With CBH, you're not just getting custom boxes; you're getting a commitment to quality, craftsmanship, durability, and the power to make a lasting impression on your customers that goes beyond packaging.
2. Endless Customization Possibilities
Whether you need customised packaging boxes for a specific product line or want customisable boxes that showcase your creativity, we have you covered.
There are more than 150 possibilities to customise any box according to the nature of your product. Here are a few of them, but remember, possibilities are endless, and you can get every design according to your desire.
A World of Customization
We understand that you have invested a lot of effort to make your product unique, and your packaging is the only costume that can reflect this uniqueness in the market. Whether you have a specific product line that requires tailored packaging or you want to unleash your creativity to make a lasting impression, our range of custom packaging boxes has you covered.
150+ Customisable Options...
We allow our customers to present their aims and expectations on the table, and we, along with more than 150 customization possibilities, will make their ideas real. Here are just a few of the customization options we offer:
CBD Oil Boxes: These are customised boxes designed to package CBD oil products. In this variation, you can get many protection options for the oil inside the product and the information.
Vape Boxes: Vape boxes are efficiently designed to provide a protective costume to vaping products, such as e-cigarettes and vape pens. With a wide range of varieties, they can be customized to aim for the proper identity of your products in front of the audience.
E-liquid Boxes: These boxes are specially designed for e-liquid bottles. Customisation is not limited to any specific feature of the box, and it can be anything according to the nature of the product.
Cosmetic Boxes: There is a wide range of cosmetics products such as lipsticks, makeup boxes, etc. Due to its versatile nature, these boxes can be shaped to accommodate all kinds of products.
Lipstick Boxes: Lipstick is packed in a plastic casing, but this casing itself is a sensitive material and can be damaged easily. Lipstick boxes are designed to shelter lipstick with stylish, customizable options for presentation.
Makeup Boxes: Just like lipstick boxes, these boxes are also prepared to protect all kinds of cosmetics products and presented in the market with their brand's image.
Coffee Boxes: Custom boxes are also available in coffee boxes for all coffee types, whether it is coffee beans or ground coffee and due to customisation options, the specific brand of coffee can be represented on these coffee boxes.
Candy Boxes: These boxes are designed beautifully to preserve and protect candies and the candy brand.
Chocolate Boxes: Chocolate boxes come with lots of varieties to accommodate all kinds of chocolates that can be presented or gifted to your customer or loved ones with a proper brand name.
Dairy Boxes: These boxes are designed to shelter dairy items such as eggs, butter, and cheese. These boxes are also designed to preserve this food during carriage and can be printed to provide information on the benefits of using your brand.
Macaron Boxes: These boxes provide a unique costume for delicious macaron cookies and can be presented to the audience in an organized manner.
Pillow Boxes: These boxes are shaped and designed uniquely and can be used efficiently to provide beautiful but strong protection to small and fancy products.
Endless Possibilities, Tailored to You
These are a few examples of how we are customising these cartons according to the structure of all kinds of products. These customizations are limitless. At Custom Boxes Hub, we understand that no two products or brands are the same. And so our expertise is one of the best in the business to present your ideas to life. You can get every design according to your desire, whether a sleek, minimalist look, a bold and vibrant design, or something unexpected.
Your Vision, Our Expertise
The primary purpose of our expertise is to guide you through the complete roadmap of customisation and printing procedure and which method is remarkably helping your brand to present more precisely in the market. With our fastest turnaround time, you won't have to wait long to start your customized packaging journey.
3. Precision in Custom Box Printing
Printing, along with suitable colours, is considered one of the best features of Custom kraft boxes to provide a precise brand identity to your brand. But what is suitable to print on your custom boxes that presents your brand uniquely in the eyes of your audience? Picking the best printing option is vital in packaging and can positively impact sales. Suppose you need clarification about which printing style is suitable to represent your business in the market. In that case, you should engage with CBH in order to get suggestions from our experts about which possible printing option is made for your brand.
Varieties of Printing:
There are usually three popular types of printing with which your brand can be presented in a vivid-coloured manner along with your brand's logo.
Flexo Printing:
Flexo printing, short for flexography, is a versatile and cost-effective printing method widely used in the packaging industry. It allows for up to three colours to be applied directly to your packaging material. The process involves using flexible rubber or polymer plates to transfer ink onto various substrates, such as cardboard, plastic, or paper.
It's an excellent choice for straightforward designs and large-volume printing orders. The direct application of ink to the packaging material results in vibrant colours and sharp details.
Litho Printing:
Litho printing, also known as lithography or offset printing, is a premium and sophisticated printing process often associated with high-end publications and luxury packaging. Unlike other printing methods, lithography is a two-step process. First, the image is transferred to a rubber or metal plate, and then it's transferred onto the packaging material.
Litho printing is best known for its impact-making characteristic; it can precisely reproduce intricate and detailed designs, which means all six colours of the spectrum with shades and tones.
Digital Printing:
Unlike traditional printing methods that require time-consuming setup and plates, digital printing works by transferring digital images directly to the packaging material. Digital printing is considered one of the best printing options for new startups.
4. Eco-Friendly Custom Cardboard Boxes
Lastly, a characteristic that makes our custom printed boxes stand out in the market is their quality making. Being a part of this earth, we cannot deny that we are losing an environment where packaging is one of the most critical factors or creating atmospheric issues such as global warming. But we at CBH manufacture custom cardboard boxes and Custom rigid boxes created with solid cardboard or paperboard material that is eco-friendly and recyclable.
Summing Up
These were our major four prospects that are making CBH unique in their business: how we are preparing an unmatched quality of custom boxes to withstand all kinds of hazards for the protection of your products, along with numerous customization options to achieve the correct custom box for your products by maintaining the necessary protocols of environment and creating a complete hub of custom boxes.