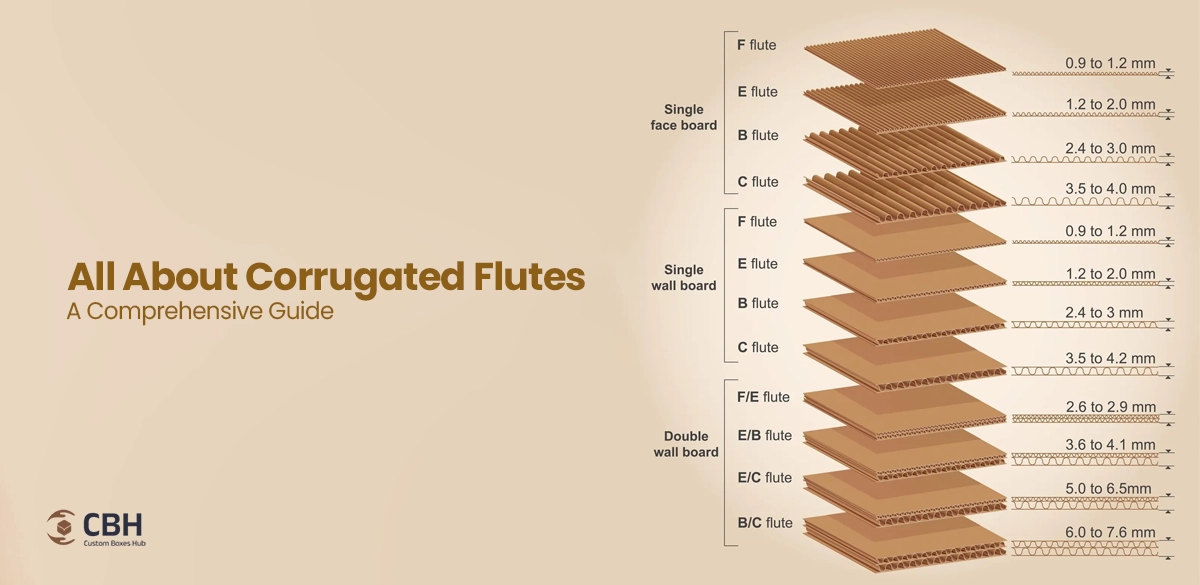 Are you looking for bespoke corrugated boxes but don't want to spend too much? You came to the right place, as Custom Boxes Hub will solve all your packaging needs! We've been in the business for the past fifteen years, providing the best packaging solutions for our valued clients. We aim always to guarantee customer satisfaction, always putting our customers first. Look through our vast catalog of packaging solutions to find the best option for your brand. Once you've selected your preferred box type, consult our professional design team to create the perfect packaging! Get a free quote now, and start our packaging journey together!
Corrugated boxes are a cornerstone of modern packaging, trusted for their robustness and protective qualities. Corrugated flutes are the unsung heroes that grant these boxes their structural integrity and resilience. If you're considering custom corrugated boxes, understanding corrugated flutes is pivotal.
What are Custom Corrugated Boxes?
Customers always expect one thing from the retailer: they deliver their product responsibly and ensure its safety. It increases the customers' trust, and they rely on your brand for further shopping. This shows the importance of packaging in the business. Regarding packaging solutions, corrugated boxes are the unsung heroes of the industry. These versatile boxes have been a staple for businesses across the globe, ensuring the safe transportation of goods while being eco-friendly.
Additionally, in the current scenario where online shopping is on the rise, and everybody is opting for this convenient way of buying things, packaging has become an essential element of a brand's success. According to the statistics, online sales are predicted to be over $5.5 trillion in 2023; therefore, if you want to grab all these sales this year, then make sure you get the packaging from corrugated boxes manufacturers at wholesale prices, never to run short of packaging for shipping items.
Custom corrugated boxes are made with premium quality material that protects delicate and luxury items ranging from jewelry to cell phones, apparel products, food items, and even candles.
Benefits of Corrugated Boxes that Everyone Should Know
Durability
Corrugated boxes are made with premium, sturdier material than ordinary ones. It is highly suitable for transporting expensive items safely; therefore, if you want to ship bulk items to other cities, you must opt for corrugated boxes in bulk. They protect the products from external factors like jerk, dust, and moisture.
Sustainable
Sustainability of the packaging has become the primary concern of the customers now; the customers observe every Monir detail. Therefore, if you want your brand to be recognized as a responsible and trustworthy brand, never compromise on the quality of packaging.
Customization
Corrugated boxes are printing and customization-friendly, meaning they can be easily transformed into different shapes, designs, and sizes. You can ask the corrugated box manufacturers to follow your specifications and design the boxes accordingly. Moreover, you can also get printed corrugated boxes with your brand logo and stunning images to attract a wide range of customers.
Also Read:
RGB & CMYK Models in Print & Packaging – The Complete Manual
Affordable
There is numerous corrugated box supplier that offers affordable wholesale corrugated boxes. You can enjoy a massive discount when buying large quantities of custom corrugated packaging solutions.
Excellent Printing
Corrugated boxes offer a perfect canvas for branding and marketing. You can print logos, slogans, and product information directly on the box. Many corrugated packaging box manufacturers provide high-quality corrugated box printing.
Flexibility
Customization of corrugated boxes makes them highly flexible. You can choose any style depending on your products, whether you deliver electronics, jewelry, cell phones, or food items.
What are Corrugated Flutes?
Corrugated boxes are one of the most secure packaging solutions you can get for your brand. These boxes specialize in handling fragile products because of their protective properties. Nothing annoys customers more than a faulty product. Corrugated flutes are what provide your custom corrugated packaging with its structural integrity.
Corrugated flutes are wavy, arch-like shapes between the corrugated boxes' layers. These flutes are not just decorative; they serve a crucial purpose in enhancing the thickness and strength of the corrugated fiberboard, which, in turn, protects the contents within.
Corrugated flutes are essential to your packaging but can't be understood at first sight. Custom corrugated boxes have several layers that build the structure of the box. These layers are a collection of corrugated flutes that strengthen the box. Corrugated flutes are wavy shapes formed between the layers of the boxes. The primary purpose of these flutes is to increase the thickness of the corrugated fibreboard.
Different Corrugate Thicknesses Used for Custom Corrugated Packaging
Selecting the thickness for your corrugated boxes is essential for preparing the perfect package. Different products require different levels of protection, so you must ensure you choose the correct thickness for your products. Let's go through various thickness options that you can use for your products.
Single Face Board
Single-face cardboard is the least durable option for thickness. It holds a single liner connected to one flute. These boards usually give the products an excellent cushioning effect, but they offer little protection.
Single Wall Board
Also called corrugated fibreboard, this is when one flute is glued to two liners. These are used for delivery cartons. They are thicker than single-face cardboard and provide better protection. You can use this thickness for more fragile products like glass bottles or beverages.
Double Wall Board
As the name suggests, you make double-wall boards by sticking a single-face board to a single-wall board. This creates a thick, sturdy package suitable for most fragile products.
Triple Wall Board
The toughest corrugated box thickness, triple-wall boards are crafted by placing one single-wall board between two single-face boards. This gives a tremendously sturdy package that is capable of transporting chemical substances.
Selecting the Right Thickness
Choosing the proper thickness for your corrugated boxes is essential to creating the perfect packaging solution for your brand. Several factors should influence your decision, so let's review them.
Factor in your product's dimensions first. When deciding, consider things like height, length, weight, and strength. Heavier items may require corrugated boxes with thicker flutes to provide support and protection during transit. Delicate or fragile products need extra cushioning, so it's essential to consider flutes that offer better shock absorption. Additionally, the size of your products can significantly influence the strength and integrity of the packaging. More oversized items might demand customised boxes or sturdier corrugated flutes for added support and protection.
Transit conditions also play a pivotal role in choosing suitable corrugated flutes. The conditions under which your products will be transported can impact your choice. Longer shipping distances or extended transit times may require packaging with thicker flutes to withstand the rigors of the journey. Consider the potential for rough handling or stacking during transit, as this can influence your decision. For packages subjected to multiple handling points or harsh treatment, opting for sturdier corrugated flutes is advisable to ensure the structural integrity of your packaging.
For example, if you're shipping delicate glassware over long distances with multiple handling points, you might opt for custom corrugated packaging boxes with double wall boards. These provide the necessary protection and support to ensure your products reach their destination intact.
Conclusion
Now that we've gone through the different factors of selecting the perfect thickness for your corrugated boxes, you can decide based on your product. These boxes are the safest option for shipping of all sorts.