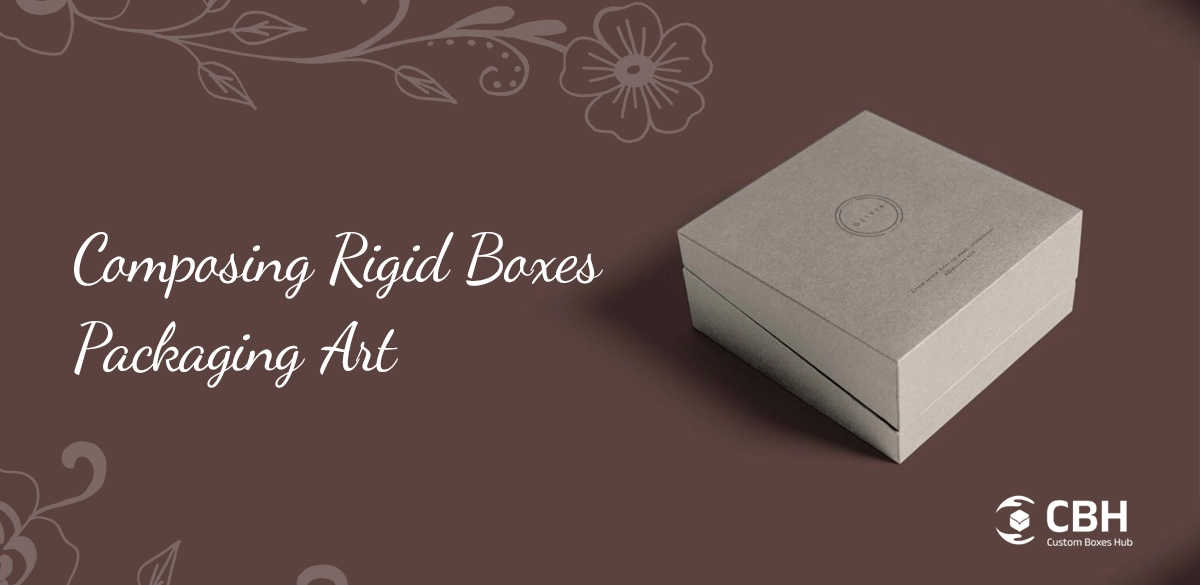 Rigid packaging boxes can be a unique covering to present all kinds of products in a well-organized way to provide a luxurious experience to customers. Because of its heavy weight and higher expense, it is sometimes referred to as set-up boxes or luxury packing, highlighting its elevated status. Using the thorough structure presented in this posting, and you can learn more about examining bespoke rigid packages.
What are Custom Rigid Boxes?
Custom rigid boxes exemplify robust paper-based packaging characterised by their high-density composition (often 2-3mm) of chipboard, elegantly enveloped in decorative speciality rigid paper boxes. As mentioned, these boxes are frequently recognised as set-up boxes or premium packaging, a terminology that befits their opulent visual and tactile attributes.
Custom Printed Rigid Boxes and Finishing Techniques
The packaging avails itself for a plethora of branding possibilities through an array of printing and finishing techniques, which encompass:
Hot stamping: Applying a heated metallic foil onto the packaging surface to create a reflective and often textured design.
Embossing and Debossing: Raising (embossing) or depressing (debossing) certain packaging areas to add a tactile and visual dimension.
Coatings: Adding protective layers like matte or glossy finishes to enhance the packaging's appearance and durability.
Ornamental Elements: Incorporating decorative features like ribbons, bows, or other embellishments to enhance the visual appeal of the packaging.
Comparing Packaging Types: Flexible, Corrugated, Folding Cartons, and Custom Rigid Boxes
If you've researched various packaging types suitable for your product, you're likely already familiar with alternatives like flexible packaging, corrugated boxes, and folding cartons. While the distinction between flexible and rigid packaging might seem clear from their names, discerning between corrugated boxes and folding cartons could prove more challenging. To ensure a comprehensive understanding, consider each option's differentiating factors.
To begin, rigid boxes are known for their robust construction and substantial support, boasting a heightened sense of luxury in appearance and touch. This packaging trend is characterised by its utilisation of thick chipboard, resulting in packaging that remains unyielding in shape – a stark contrast to flexible packaging, which readily bends to accommodate various forms.
However, the lines blur a bit when considering the other options, as they share notable similarities. While rigid boxes often stand out for their presentation value, folding carton boxes and high-end corrugated packaging emerge as popular alternatives. Their affordability and adaptability in producing high-quality printing and finishing effects might be credited for their appeal.
Classification of Rigid Boxes
There are two classifications of rigid boxes: Partial and Full Finishing.
Partial Finish Custom Rigid Boxes: Enhancing Efficiency and Minimalism
A categorisation emerges in custom rigid boxes: partial and complete finish, each bearing distinct attributes and advantages. Under the banner of partial finish, the assembly process results in a state of intentional incompleteness. In this scenario, the wrapping material culminates on the outer surfaces of the box, while the chipboard beneath remains exposed and unadorned.
Employing a piece of chipboard endowed with perforated crease lines, these boxes are skillfully folded and wrapped while omitting an additional exterior layer that would otherwise conceal the underlying kraft or grey chipboard material. The choice of partial finish is propelled by its efficiency in production. The reliance on fewer materials streamlines the construction process, ultimately culminating in reduced production time.
Full Finish Custom Rigid Boxes: Impeccable Concealment and Enhanced Aesthetics
Conversely, full-finish custom rigid boxes boast a different approach, with comprehensive coverage that exposes no chipboard. The wrapping material envelops the entire package, ensuring no glimpse of the chipboard remains visible. This method employs a thicker 2-3 mm chipboard as its foundation, with the inner chipboard partitioned into sections, aligning with each side of the box.
Furthermore, the full finish option extends the opportunity for lamination, offering a range of finishing choices tailored to specific requirements. One remarkable trait of complete finish packaging is the additional layer of wrapping it incorporates. By default, this wrapping layer is white, yet it can be optionally enhanced through printing, catering to diverse aesthetic preferences and branding considerations.
Unveiling the Artistry: Crafting Custom Rigid Boxes in Four Defining Steps
The journey towards achieving the refined state of custom rigid boxes may appear intricate. Yet, we distil the process into a comprehensible quartet of steps that apply to both the partial and complete finish options:
Sizing - Precision in Proportions
The inaugural stage commences with a flat sheet of paperboard. This blank canvas undergoes meticulous cutting and scoring, ensuring an accurate dimension tailored to the box's ultimate form.
Folding - Crafting the Foundation
With the dimensions delineated, the paperboard unfurls its transformative potential. Through meticulous folding and securing, it assumes the foundational shape of the box, instilling the first layer of structural integrity.
Printing - Imprinting Identity
The artistic flourish enters the scene in the form of printing. A meticulously crafted design is transposed onto the wrap, followed by lamination to amplify its allure. This stage also extends the possibility of integrating additional embellishments, harmonising with your creative aspirations. The adorned wrap is seamlessly affixed to the carefully crafted box shape upon completion.
Wrapping - A Seamless Culmination
The wrap takes centre stage as the final stride in this creative odyssey. It is deftly and snugly enveloped around the box, encapsulating its essence with finesse and precision. With this step, the transformation culminates, yielding exquisite custom boxes for packaging meticulously crafted to captivate and protect. This four-step elucidation unveils the intricate voyage from raw material to refined packaging.
It offers a clearer perspective on the meticulous artistry that elevates these boxes to their pinnacle of sophistication. All these steps are the culprits to building a proper custom rigid box; if you are going to run a startup and want it in bulk, then you should look nowhere than custom rigid boxes wholesale. Due to their rising trends in the USA, you can easily find rigid box manufacturers and suppliers nearby you.
Exploring Diverse High-End Packaging Styles
Custom rigid boxes choose between two distinct types and many captivating style options. Let's delve into some popular selections that epitomise elegance and ingenuity.
Tube Packaging: Cylindrical Sophistication
The tube packaging style showcases a cylindrical form, providing a refined option for packaging. It emerges in two primary variations: telescopic or shoulder-neck openings. This style is well-suited for various items, including beverages, cosmetics, accessories, and snack containers like the iconic Pringle's cans.
Magnetic Closure Boxes: Seamlessly Luxurious
Exhibiting an air of luxury, magnetic closure boxes boast the integration of two robust magnets, creating an effortlessly secure seal. These boxes elevate the presentation of jewellery and retail products, infusing them with luxury. The tactile satisfaction of their closure is coupled with the added convenience of collapsibility, ensuring space-efficient storage.
Drawer Style Boxes: Opening like Elegance
As the name suggests, drawer-style boxes open like a drawer, exhibiting a captivating elegance in their mechanism. Also known as slipcases, slides, or matchboxes, this style exudes a unique charm that complements the packaged item.
Book Style Boxes: Unfolding Creativity
Embued with creativity and innovation, book-style boxes unfold like hardcover books, evoking a sense of familiarity. Whether featuring a straight or rounded spine, these boxes provide a distinct book-like sensation. Magnetic attachments can be seamlessly incorporated for an added luxury touch, elevating the packaging to an even higher echelon.
Shoulder Neck Boxes: Elevated Unboxing Experience
Shoulder neck boxes introduce a multi-layered construction featuring a distinctive inner layer that accommodates the lid's resting position. This efficient method of creation provides a unique aesthetic in terms of unboxing. A limitless range of customisation enables these containers to coordinate quite efficiently with the nature of your brand with vivid colours and styles, enabling your trademark crux.
Summing Up
So, in this article, we have reinforced all the possible aspects of rigid boxes, such as their formation and customisable styling options, to enhance their creativity. We separated the partial and complete finish options for custom rigid boxes.
We revealed the accuracy of size, the artistry of folding, the capacity for identity-building of printing, and the finality of wrapping. A flawless box that stores products and tells a brand story is created with the help of each stage. Within these custom rigid boxes, a multitude of styles beckon. With its cylindrical elegance, Tube packaging finds a home alongside magnetic closure boxes that marry security and luxury.
Drawer-style packages create an elegant mechanism, while book-style packs creatively unfold like stories. Shoulder neck boxes, with their multi-layered innovation, promise a unique unboxing experience. As we conclude this comprehensive journey, we find ourselves equipped with insights into the artistry and craftsmanship that define high-end packaging. Each detail—from the subtle structural information to the stylistic decisions—contributes to a sophisticated symphony that appeals to the product inside and clients' discriminating eyes.