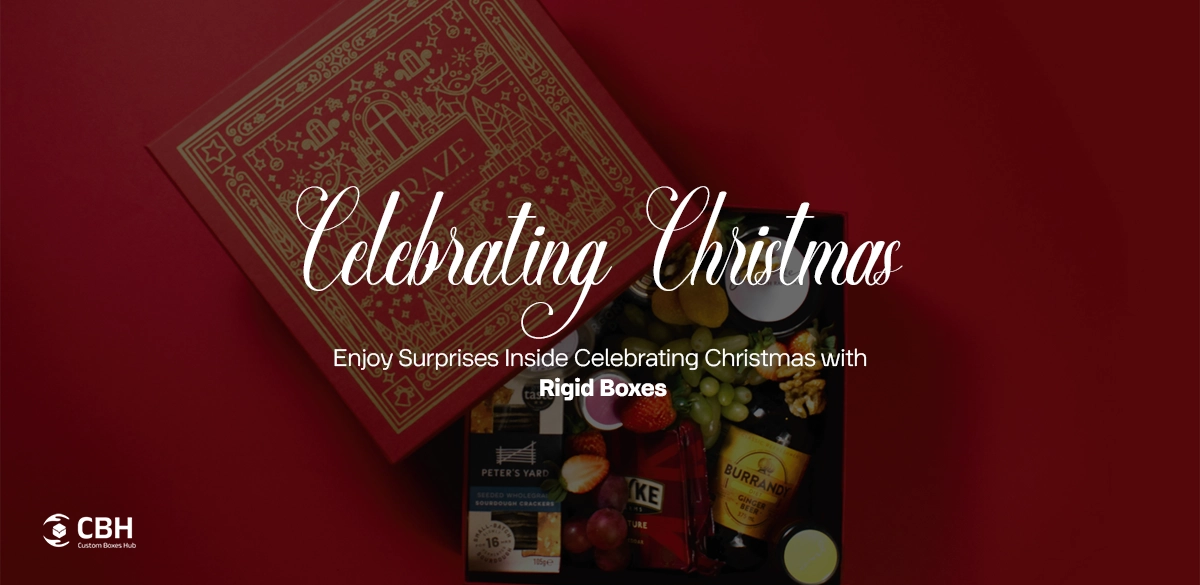 Businesses are taking every aspect to develop their marketing in the United States. Event marketing is a term that has taken birth in these scenarios and is helping enormous businesses in the USA in their growth. Custom Boxes Hub is considered the number one brand in providing the best packaging for businesses that want to make a positive impact with event marketing. We are now providing custom rigid boxes for upcoming events on Christmas Eve. If you think as a business person, Christmas is just an eye-blink away, that's why the right is now to plan something special for your clients to impress them by presenting your products in rigid boxes on Christmas Eve. You'll never get back from our blog without a bonus offer. Click that quote button and order Christmas Rigid boxes wholesale from CBH, and we will provide you with the best and most reasonable rates as compared to the market. Read it if you want to acknowledge yourself about how this fruity offer has the right impact on your brand.
Understanding the Importance of Rigid Packaging
Rigid packaging is a term used to describe packaging solutions that are strong, durable, and retain their form and structural stability. Such packaging is widely utilized for an array of products, including but not limited to electronics, cosmetics, luxury goods, and fragile artifacts.
Batteries not Included Still Durability
The solid structure of these boxes is witness to their durability without placing an extra battery. We manufacture these boxes with the best cardboard materials so that they cannot change their shapes even when they are empty. The extensive adoption of rigid packaging can be attributed to its superior protective qualities. Constructed from sturdy materials such as cardboard, chipboard, or corrugated board, rigid boxes are engineered to withstand external forces, impacts, and environmental conditions. This resilience ensures the safety and preservation of the enclosed products throughout the processes of shipping, handling, and storage. As a result, businesses can trust rigid packaging to shield their goods from potential harm, thereby minimizing expensive losses associated with breakage or spoilage.
Rigid Reindeer Boxes with Aesthetic Appeal
Rigid reindeer boxes, with their captivating allure and charisma, have emerged as a delightful enhancement to Christmas gifting. These unique boxes not only safeguard your gifts but also infuse an element of enchantment into your offerings.
Jingling bells of Customization
Customization is one of the superb facilities provided by efficient packaging firms such as Custom Boxes Hub to help enormous businesses keep themselves up to date with the latest trends and events. Christmas is around the corner, and CBH is ready to serve to get the best returns on Christmas Eve. Our ambition is to ring the jingle bells of Customization with elegant rigid boxes by CBH.
High-End Custom Boxes for a Luxury Christmas
Christmas is a period of festivity, generosity, and the spreading of happiness. It's a time when kindness and emotions are conveyed through the giving of presents. If you aim to make this festive season extraordinary, think about using high-end custom boxes for a luxurious Christmas. These bespoke, meticulously assembled boxes not only safeguard your presents but also enhance the gift-giving experience to an unparalleled degree.
Tailored Elegance
The distinguishing feature of high-end custom boxes is their bespoke nature. You possess total authority over the design, form, hue, and adornments, ensuring that your gift boxes genuinely mirror your personal taste and style. Whether your preference leans towards the timeless and subtle or the ornate and lavish, the possibilities are boundless.
Custom Rigid Box Packaging: The Ultimate Holiday Solution
The festive season is a period of jubilation, unity, and the giving of presents. It's an occasion when considerate gifts convey affection and gratitude, forging enduring memories. To make these instances truly extraordinary, custom rigid box packaging comes forth as the ultimate festive solution. These carefully constructed and personalized boxes not only safeguard your presents but also amplify the entire gift-giving experience.
Decking the Halls with Designs of Rigid Boxes
Design is something that describes characteristics of a specific brand that are different from others. Custom Boxes Hub provides designs for all kinds of products, whether they are small like a needle or large enough; we are providing our best versions of custom rigid boxes this Christmas Eve to serve you at our best.
Gift Presentation:
Rigid boxes act as the ideal conduit for gift-giving. The design and wrapping of a box can transform a simple gift into an extraordinary surprise. Picture the delight on a child's face as they are handed a beautifully designed rigid box, inside of which lies a much-anticipated Christmas gift.
Keepsake Value:
Certain rigid boxes are designed to serve as keepsakes intended for preserving cherished holiday memories. They become an integral part of your Christmas traditions, embodying the splendor of the season and the essence of generosity. The design metamorphoses rigid boxes into magical carriers of Christmas Eve enchantment. These boxes function not only as practical containers but also as pieces of art, augmenting the festive joy and infusing a sense of wonder into the gift exchange on this particular night.
Reindeer's Role on Christmas Rigid Boxes
Usually, you can use this elegant reindeer mascot on rigid boxes to plan astonishing gifts for the children. It is a ride that Santaclause uses to bring gifts for the children. So, this concept of a mascot can bring joy to children.
Subtle Elegance: An elegance of joy will burst out, engaging these boxes with your brand, especially for children.
Whimsical Magic: For a touch that's more playful and whimsical, consider colorful reindeer prints with intricate details like sleigh bells, garlands, or scarves. These designs infuse a sense of joy into your packaging.
Classic Patterns: A timeless choice involves creating a pattern of prancing reindeer across the rigid box in a repeat design. This approach encapsulates the spirit of a winter wonderland and traditional holiday festivities.
Complementary Elements:
To perfect the appearance, consider adding matching elements to your reindeer-printed rigid boxes. Think about coordinating them with decorative ribbons, metallic foils, or embossed text that says "Merry Christmas" or "Season's Greetings." These final embellishments amplify the overall aesthetic and make your gift boxes genuinely unique.
Painting Christmas Colors on Rigid Boxes: Festive Dreams Come to Life!
How can we imagine Christmas Eve without colors? Impossible! If you genuinely want to compete with others and want to get success for your brand more than others, then you must first understand the color consciousness and feelings of customers. Each color itself is a symbol of feeling. Custom Boxes Hub, with the best printing facilities, provides you with Rigid Boxes for every Eve that can reflect emotions.
Symbolic Signs of Different Colors:
Red Colour Best for Expressing love and Excitement
Green Colour is a specialized color for nature but is also used for symbolizing freshness.
Blue is an aesthetic light color used for reflecting trust and peace.
Yellow-coloured boxes with which you can reflect happiness with efficient greetings
Well-reputed Purple color best known for expressing royalty and fanciness of a product.
White color rigid boxes known for purity are also used as a cease-fire. In packaging terms, you can use this color on boxes to define peace and love in an adorable sense.
Gold, the name itself, reflects some luxurious feelings; the boxes prepared in this color themselves get a grand, adorable visual to create suspense about what is inside it.
Silver is a metallic color, and when this color gets engaged with rigid boxes, it reflects a shiny metallic identity for the products.
Have you found your color in this list? If not, then you really don't need to get worried. Custom Boxes Hub is now providing to get live with us on Zoom meeting calls in which you can tell us which color or color combination you are looking for your products to get presented in this Christmas. We can also send you our 3D mockup artwork to keep you up to date about what you are going to get for your brand this Christmas. That's why CBH is a brand that loves to work with the customer's preferences.
Going Big on Savings: Custom Rigid Boxes Wholesale
We know how you think that all the discussed variants of customizations in rigid boxes are expensive. You are right! All of these customizations are expensive if and only if you choose a packaging firm rather than Custom Boxes Hub. CBH is a well-known brand that maintains and provides its best printing and design quality, even in bulk, at affordable rates for all businesses. There are limitless perks that you can avail of by subscribing to Christmas special rigid boxes wholesale offers of CBH.
Time Efficiency:
Preparations for Christmas often necessitate meticulous planning and efficient time management. By choosing wholesale custom rigid boxes, you simplify the ordering process. Placing a bulk order reduces the need for frequent reordering and the time spent overseeing packaging supplies. This efficiency in time management is invaluable, freeing up your schedule to concentrate on other facets of your holiday preparations.
Reduced Environmental Impact:
Sustainability is an increasing priority for numerous consumers. By opting for wholesale custom rigid boxes, you can choose environmentally friendly alternatives that resonate with your dedication to environmental stewardship. A multitude of wholesale suppliers provide eco-conscious materials and production techniques, assisting you in diminishing your carbon footprint during the festive season.
Brand Consistency:
For enterprises, upholding brand consistency during the festive season is crucial. Opting for wholesale custom rigid boxes enables you to synchronize your packaging with your brand persona. You can imprint logos, upbeat messages, and branding elements on the boxes to create a memorable impact on your customers.
The only thing we don't compromise is our quality of manufacturing all variants of custom boxes, even in bulk. The past decade and a half has been our sole witness of our quality in the market and the rates that are achievable for all those brands that are sincere about the presentation of their products in the market. For sure, presentation directly relates to ROI nowadays.
Summing Up:
This is a unique offer to perform your event marketing at its best by engaging CBH Christmas rigid boxes with your brand. We provide a guarantee of delivering the best quality in rigid boxes. We are good in rankings; maybe the next device in which this article gets opened is your competitor's Mack. So don't take a risk to ignore these boxes and avail yourself of them before Christmas. This is a unique chance to celebrate this Christmas with The Best branding strategy provided by Custom Boxes Hub. Avail it and make our words real.