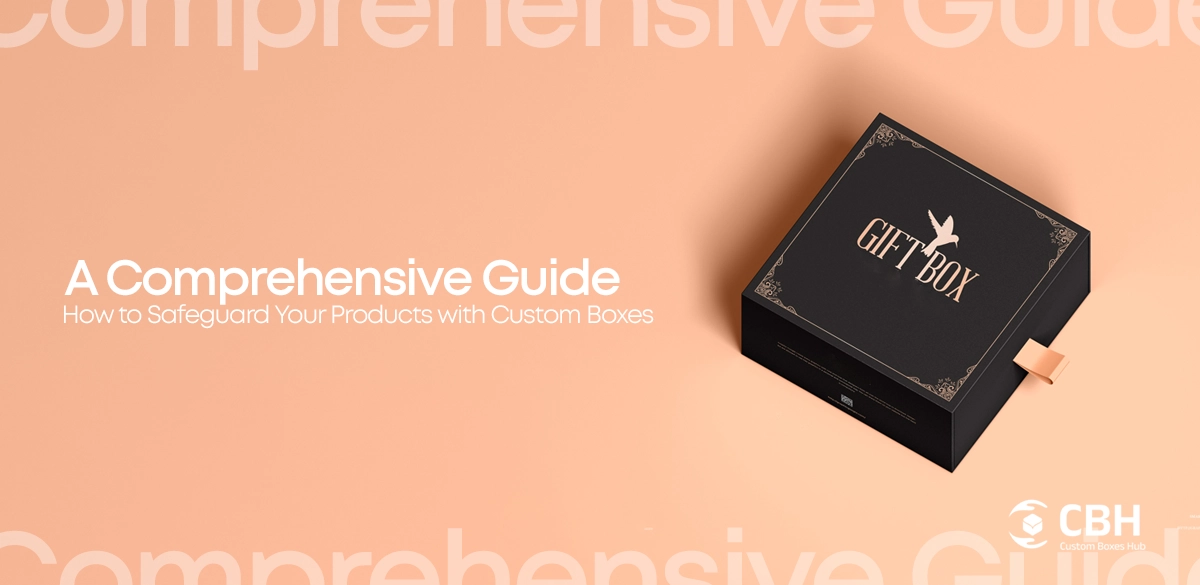 In today's highly competitive market, having a great product is just half the battle. The other half? Making sure it reaches your customers in perfect condition. Rather than settling for generic, one-size-fits-all packaging, investing in custom boxes is essential. This ensures that your product is well-protected throughout its journey—from the warehouse shelves all the way to its final destination in the consumer's hands. Therefore, in the quest for market leadership, the role of custom boxes as both a protective and branding mechanism should never be underestimated.
Custom Boxes: The First Line of Defense
Why Custom Boxes Are Essential?
Custom boxes are the first thing that a customer sees when they receive your product. They are not just a casing but also a marketing tool and, most importantly, a shield against physical damage. Because you can customize the size, shape, and material, these boxes are built to house your specific product, ensuring fewer damages and returns.
Materials and Durability
The selection of packaging materials can vary widely, typically extending from corrugated cardboard to advanced, high-grade plastics. For instance, corrugated cardboard is generally well-suited for products that require a sturdy yet lightweight container and is often favoured for its eco-friendly attributes.
Custom Boxes Printing: Aesthetics & Informative
Importance of Design and Branding
Custom boxes printing is another crucial aspect that many businesses overlook. An efficiently designed print presents the product in an organized manner and conveys a storytelling message about the product and the brand. For example, printing the box with handling instructions can go a long way in ensuring that the product reaches the customer undamaged. You can also add a quick response (QR) code or social icons on the box to engage with your customers online.
Custom Boxes Wholesale: The Economical Choice
Cost-Effectiveness
Buying in bulk enables economies of scale, effectively reducing the cost per individual unit of packaging. In the realm of wholesale purchasing, the benefits extend beyond mere cost-efficiency. Whether adding unique features like extra padding, slots for accessories, or amazing graphics and logos, a large-scale order often provides greater flexibility in design options. This can relate to the speed of service, which is particularly important if you have tight production schedules to adhere to, or it may pertain to the quality and reliability of the printed packaging itself.
Where to Buy
In the USA, you get comprehensive options from packaging printing companies offering this expertise; it's your duty to explore all of them and choose those offering efficient and cost-effective solutions. Cost-effectiveness is another important consideration but should be viewed through the lens of value rather than just upfront expenses. A seemingly low-cost provider may offer fewer customization options or lower-quality materials, which could ultimately be detrimental to your brand and customer satisfaction. On the flip side, a more expensive service might offer premium materials, more excellent durability, and eye-catching designs that can enhance brand perception and deliver a better unboxing experience for your customer.
Custom Boxes Bulk: For Larger Operations
Benefits of Bulk Ordering
This is particularly advantageous for seasonal products or limited-time promotions that require the rapid production and distribution of large volumes within a compressed time frame.
Managing Inventory
Effective inventory management is the key to making bulk orders work in your favour. Ensuring that your products and boxes are always in sync will save a lot of headaches. For instance, running out of packaging materials while having surplus stock can lead to costly delays, just as an excess of boxes with insufficient product can consume valuable storage space.
Custom Printed Boxes: Elevate Your Brand
The Double-Edged Sword & Functional Purpose:
Custom printed boxes serve dual purposes in both functionality and marketing, At the most basic level, a box contains, protects, and transports a product. Whether it's a fragile item that needs a sturdy exterior or a set of smaller items that need to be bundled together, a well-designed box fulfils these functional requirements.
Marketing Purpose:
Custom printed boxes go beyond basic functionality by serving as a marketing tool. With the company's branding, colours, and other design elements, these boxes become a form of advertising. When consumers see the box, they're also seeing a visual representation of the brand itself.
Major Sectors for Custom Boxes:
Here's a breakdown of some of the major sectors that leverage custom boxes for safeguarding and branding:
Custom boxes protect perishable items like fruits, vegetables, and cooked meals from contamination and damage during shipping. Specialty designs and logos can be added to packaging to make products stand out on supermarket shelves.
Pharma companies utilize boxes with specific colours, logos, and text to make it easier for consumers to identify their products.
Custom inserts and cushioning materials keep delicate electronic components safe during transportation.
Boxes are designed to keep garments wrinkle-free and accessories like jewellery undamaged during shipping. Those boxes that are appropriately designed with a brand's logo or tagline have an excellent chance to grab more audience attention than others.
Custom boxes are designed to prevent bottles and jars from breaking and to keep the product sealed. The design often includes appealing aesthetics and the brand's unique colour scheme, which contributes to product appeal and recognition.
Custom boxes hold automotive parts securely, protecting them from impacts and environmental conditions. Companies can print essential information, assembly instructions, and their logo on the boxes.
Items like furniture components, stationery, and cleaning products are often shipped in custom boxes designed to keep them intact. Logos, company information, and even QR codes for easy re-ordering can be printed on the box.
These boxes are customized to fit a variety of products in a single package, providing a secure environment for all items. Subscription box companies heavily rely on aesthetic and thematic packaging to create a memorable customer experience.
Custom boxes for pet foods, toys, and accessories ensure that products arrive safely and are protected from external elements. Cute designs, brand logos, and informative text are commonly found in these boxes.
Almost anything sold online can be sent in a custom box designed to protect the specific type of merchandise. Companies often use custom branded boxes to create a cohesive shopping experience, from online browsing to product unboxing.
Customized Packaging Boxes: The Personal Touch
For businesses looking to add a personal touch to their products, customized packaging boxes are the way to go. Unlike generic, off-the-shelf packaging, customized boxes can be tailored to match your brand's aesthetics, values, messaging and customisable boxes for sure. Customizable boxes offer the flexibility to change the design, shape, or print based on the product's needs or market trends. This agility is crucial for staying ahead in a dynamic market.
Wholesale Custom Packaging: A One-Stop Solution
Custom Printed Boxes Wholesale: Quality Meets Quantity
One of the key advantages of opting for custom printed boxes in wholesale quantities is the harmony of quality and volume. The term "wholesale" often connotes a large number of items, possibly leading some to believe that quality may be compromised. However, with today's advanced printing techniques and materials, quality can be preserved for quantity. Custom printed boxes wholesale options allow you to print your logo, tagline, or any other marketing material directly onto the box, thus increasing brand visibility.
Simplifying Procurement
With wholesale custom packaging, you get everything from custom boxes to custom printed labels, all in one place. Single-source procurement also minimizes the risk of supply chain disruptions, as companies only need to coordinate with one supplier rather than multiple entities
The Final Touch
Custom box printing adds the final touch to your product packaging. Whether it's a glossy finish, matte finish, or UV spot, a high-quality print can make your product stand out on the shelf. Make sure to leverage all the options and services packaging printing companies offer to maximize these benefits.