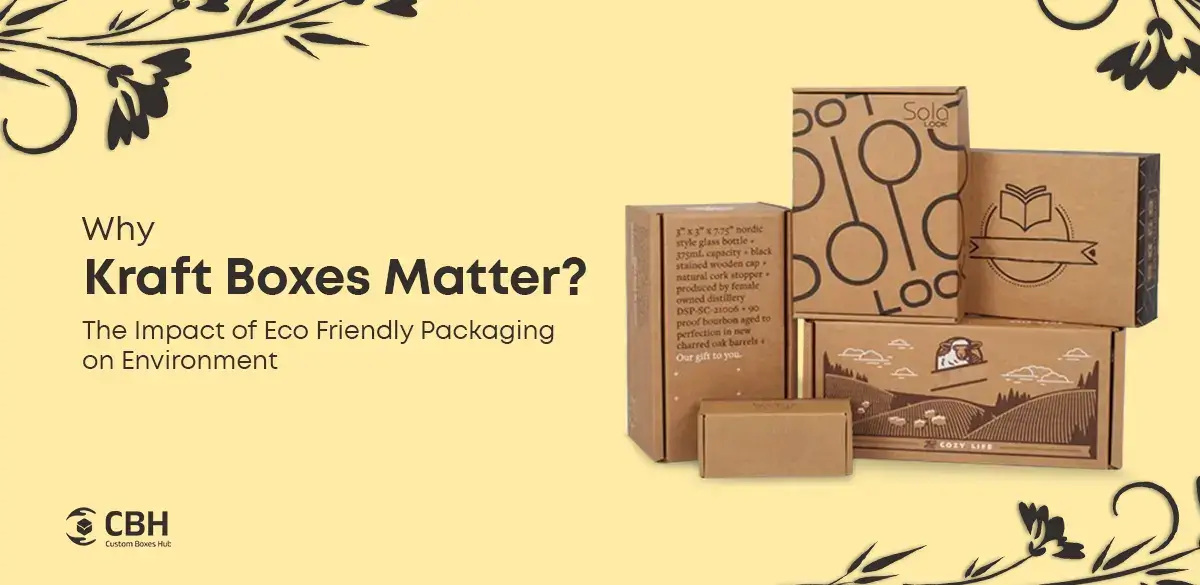 Many brands have started using kraft boxes due to their several benefits. Europe embraced cardboard in the 19th century. It is one of the most used packaging choices. It is because of its low weight and durability. This is also a better choice because it is recyclable and biodegradable. Most companies and well-known brands use these substances to package their products. Here we will discuss why kraft packaging matters. We will also see the impact of eco-friendly packaging on the environment.
Why Do Kraft Boxes Matter?
The following points will let us know how these boxes are important:
Cost-Effectiveness
The manufacturing process of this packaging uses less material. It consists of recycled materials. These substances are available in nature. Most brands obtain recyclable elements for production from the plant anywhere in the world. Small brands use them to package their products because they lack capital. For instance, manufacturers can provide delicate products with less risk of damage. They can also enhance sales and customer loyalty using suitable product packaging. Small kraft boxes are cost-effective. Their cost-effectiveness has increased their value.
An Eco-Friendly Nature
They are the most harmless to the environment. It is because they contain no poisonous substances. Its production does not entail the use of any hazardous substances. As a result, anyone can use these eco-friendly boxes for a variety of items. These materials are all sustainable since they all have wood-based constituents. Hence, their eco-friendliness may improve the image of your brand. Most eco-conscious customers will prefer buying products from brands using green packaging.
Easier Disposal and Recycling
Cardboard and kraft paper make up about 41% of solid waste. Using reusable packaging can save up to 24% of the energy needed to manufacture new packaging solutions. Over 80 billion tons of packages meet our needs in a single year. We can avoid more than nine cubic yards of rubbish from going to landfill by recycling packaging solutions. Moreover, recycling an eco-friendly box yields less than 50% sulfur dioxide. We throw away seventeen billion packages annually. People discard more than 800 million tonnes of paper and other paper products. Recycling cardboard may save 390 kWh and 46 liters of oil for every tonne of paper that is recycled. Hence, their easier recycling and disposal can make them the best choice for various businesses.
Attractiveness
Custom kraft boxes may attract consumers to brands. Brands can include more thoughts and concepts in their box designs. They can also draw clients to brands. They can also act as a magnet to entice new customers. It enhances the value of packaged items when they are present in retail stores. The eye-catching box design is an efficient way to grab customers' attention. Customers smile when they see the bright and colorful box on the store shelf. Hence, its attractiveness may enhance the value of your products. Every brand needs it to make its products stand out in retail stores.
Compliance With Green and Respect
When you use green packaging, it can help your brand become respectable in the market. Do you understand how it can help you earn respect? According to experts, when you use eco-friendly printed kraft boxes, you may win the love of eco-conscious buyers. They will love your green business policies. They will also continue trusting your brand. Hence, by using this packaging, you can ensure compliance with green standards. You can also entice more buyers and improve the image of your brand.
Impact of Eco-Friendly Packaging On Our Environment
The following points will let us understand the impact of green packaging on our environment.
Reduces Packaging Waste
The production of waste due to disposable packaging is another significant problem. Packaging waste may also cause significant problems. For instance, these substantial heaps of waste make up an ideal microbial habitat. They can also give them a good atmosphere to live in so they can develop more quickly. These pathogens can spread from trash to food through vectors like flies. As a result, they may contribute to significant human disorders. The greatest benefit of eco-friendly packaging design is that it lessens the production of waste. It is recyclable and biodegradable. It may aid in lowering waste production. Hence, it can maintain the security and health of all living creatures.
Eco-Friendly Packaging Cuts Carbon Emissions
Are you familiar with how carbon dioxide affects the environment? It is a greenhouse gas with significant effects. Global warming is caused by an increase in the atmospheric concentration of carbon dioxide. There are numerous negative effects of global warming. Therefore, the greatest benefit of this packaging is that it reduces carbon dioxide emissions. The environment will eventually be protected from the effects of global warming. Hence, you can also use green solutions to get respect from buyers. It will also help you adhere to modern environmental regulations.
Conclusion
To sum up, eco-friendly kraft boxes are crucial to our daily lives. They are adaptable to our needs. They also have the ability to tolerate risks due to heat and moisture. These substances are also advantageous because they can be recycled and don't contribute to air pollution. We have described various factors to show why these boxes matter. We have also explained how eco-friendly packaging may impact our environment. This packaging can protect our environment for future generations.